[av_heading heading='INSPIRATION' tag='h3′ link=" link_target=" style='blockquote modern-quote modern-centered' size='20' subheading_active=" subheading_size='15' margin=" padding='10' icon_padding='10' color=" custom_font=" icon_color=" show_icon=" icon=" font=" icon_size=" custom_class=" id=" admin_preview_bg=" av-desktop-hide=" av-medium-hide=" av-small-hide=" av-mini-hide=" av-medium-font-size-title=" av-small-font-size-title=" av-mini-font-size-title=" av-medium-font-size=" av-small-font-size=" av-mini-font-size=" av-medium-font-size-1=" av-small-font-size-1=" av-mini-font-size-1="][/av_heading]
[av_heading heading=''Time does not pass, it continues…'' tag='h3′ link=" link_target=" style='blockquote modern-quote modern-centered' size='40' subheading_active=" subheading_size='15' margin=" padding='10' icon_padding='10' color=" custom_font=" icon_color=" show_icon=" icon='ue800′ font=" icon_size=" custom_class=" id=" admin_preview_bg=" av-desktop-hide=" av-medium-hide=" av-small-hide=" av-mini-hide=" av-medium-font-size-title=" av-small-font-size-title=" av-mini-font-size-title=" av-medium-font-size=" av-small-font-size=" av-mini-font-size=" av-medium-font-size-1=" av-small-font-size-1=" av-mini-font-size-1="][/av_heading]
[av_hr class='invisible' icon_select='yes' icon='ue808′ font='entypo-fontello' position='center' shadow='no-shadow' height='20' custom_border='av-border-thin' custom_width='50px' custom_margin_top='30px' custom_margin_bottom='30px' custom_border_color=" custom_icon_color=" id=" custom_class=" av_uid='av-kg9ckbul' admin_preview_bg="]
[av_image src='/content/images/wordpress/2010/11/100_2938.jpg' attachment='294′ attachment_size='full' copyright=" caption=" styling=" align='center' font_size=" overlay_opacity='0.4′ overlay_color='#000000′ overlay_text_color='#ffffff' animation='no-animation' hover=" appearance=" lazy_loading='disabled' link=" target=" title_attr=" alt_attr=" id=" custom_class=" av_element_hidden_in_editor='0′ av_uid='av-kg9cm0lc' admin_preview_bg="][/av_image]
[av_hr class='invisible' icon_select='yes' icon='ue808′ font='entypo-fontello' position='center' shadow='no-shadow' height='20' custom_border='av-border-thin' custom_width='50px' custom_margin_top='30px' custom_margin_bottom='30px' custom_border_color=" custom_icon_color=" id=" custom_class=" av_uid='av-kg9ckbul' admin_preview_bg="]
[av_textblock size=" av-medium-font-size=" av-small-font-size=" av-mini-font-size=" font_color=" color=" av-desktop-hide=" av-medium-hide=" av-small-hide=" av-mini-hide=" id=" custom_class=" av_uid="]
There are community farmhouses (rustico borgata) all through the mountains around Gambasca. Ours is called Borga Nari, and we've found five others within easy walking distance of our house.
We've been told by our friend Piera that when autumn comes they pop up like mushrooms and then we'll be able to see them all through the valley.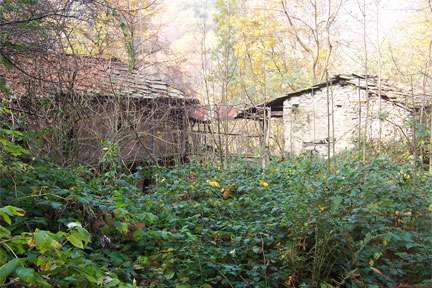 This Borgata was found on a winding walk down into the valley, along the banks of the stream on the thickest blanket of Autum leaves which constantly rustled with unknown creatures. Completely hidden and abandoned many years ago, almost covered over with bracken.
People lived here, were born and died here, raised families and I am totally in awe.
I long to know their stories, where did they go, who holds the history?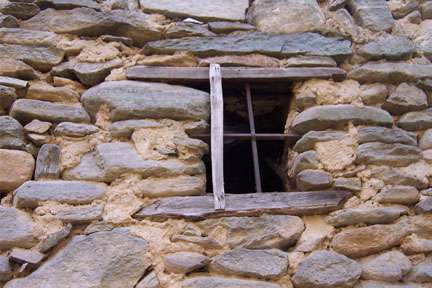 Most have hidden relics a wooden wheelbarrow (including the wheel), a full sized wooden sled that could easily carry Santa, and huge raffia covered wine/oil bottles.
We found a tiny cobbled shoe at our house. It's so hard to imagine people actually living here, some of the doors are only 4 feet high.
I could swear I hear the sound of children playing and calling to each other. Each time I visit I have a "Blair Witch" moment of panic, just my mind playing tricks.
I am in love with these abandoned remains and the stories they long to tell.
If you also have a love for stories and history I would be fascinated to hear from you.
Save
[/av_textblock]
[av_image src='http://www.renovatingitaly.com/wp-content/uploads/signature-55.jpg' attachment='11874′ attachment_size='full' align='center' styling=" hover=" link=" target=" caption=" font_size=" appearance=" overlay_opacity='0.4′ overlay_color='#000000′ overlay_text_color='#ffffff' animation='no-animation' admin_preview_bg=" av_uid='av-8xilvi'][/av_image]
[av_textblock size=" font_color=" color=" admin_preview_bg=" av_uid='av-88pwj2′]
and the gang x
[/av_textblock]
[av_image src='http://www.renovatingitaly.com/wp-content/uploads/2014/10/add-a-comment-below-message-51d428b350defc8d95d44beb19ebf9a6-e1453284741320.jpg' attachment='7223′ attachment_size='full' align='center' styling=" hover=" link=" target=" caption=" font_size=" appearance=" overlay_opacity='0.4′ overlay_color='#000000′ overlay_text_color='#ffffff' animation='no-animation' admin_preview_bg=" av_uid='av-6ejkn2′][/av_image]
[av_social_share title='Share this entry' style=" buttons=" share_facebook=" share_twitter=" share_pinterest=" share_gplus=" share_reddit=" share_linkedin=" share_tumblr=" share_vk=" share_mail=" av_uid='av-44xor2′]
[av_comments_list av_uid='av-2fe3y6′]
[av_image src='http://www.renovatingitaly.com/wp-content/uploads/DSCF2188-edit.jpg' attachment='12209′ attachment_size='full' align='center' styling=" hover=" link=" target=" caption=" font_size=" appearance=" overlay_opacity='0.4′ overlay_color='#000000′ overlay_text_color='#ffffff' animation='no-animation' admin_preview_bg=" av_uid='av-8le1a'][/av_image]