Today we put a deposit on our house which is about 3 kms out of the town of Gambasca, Piemonte. It is straight up a road that in some spots reminds me of Lombard St (the very crooked road in San Francisco).
Are we nuts?
Most certainly. Do we want to renovate this rustic farmhouse in the mountains? More than anything! We could hardly contain our delight when we drive up the mountain road with the agent. Sam knows I love it already and no matter what it looks like inside it is ours from that first moment.
The further up the mountain we drive the thicker the forest gets. At our first visit it was cool, deep green with dappled light. Our farmhouse is off the road to the right, down a bumpy driveway usually draped in the local dogs and cats. They always move out of the way with seeming annoyance for daring to disturb them.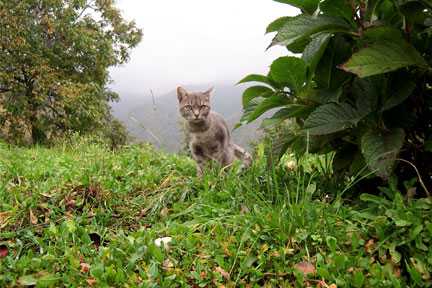 The two cats think they are dogs and one time I found Smokie the cat curled up on a chair (that's her in the photo) with Smarties the puppy. When we turn the corner my jaw drops, this is it, the rustico part of the borgata which is overgrown with weeds and deserted  when we moved in.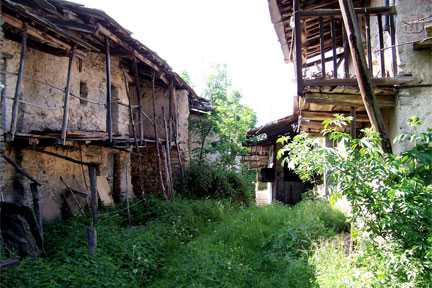 On our first day all I could think of were a three year old and a one year old toddling around here. Snakes hmmm no idea? Mine shafts, wells, a Mothers mind goes into overdrive.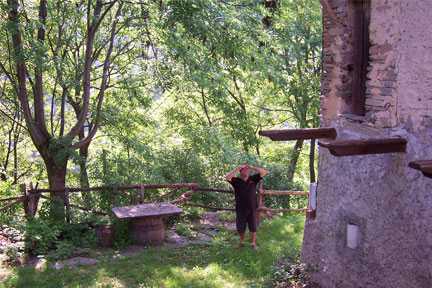 What are we going to tell the parents home in Australia? We now own a part of history, dirt floors, vaulted ceilings, rock roof, no windows, and totally isolated (believe me that's how it felt on the first night). Time to renovate!
Like this Post?
Subscribe for more straight to your inbox