There are of course many reasons that inspire dreams of moving to Italy. This is the country that has given us Gelato, Michelangelo, talking with our hands, Bocelli, and twirling the pasta on the fork. Passion, drama, history and a place to dream about. A place for Living La Dolce Vita.
Even my friends who have never been there have a picture in mind of lazy afternoons, hot sun, a bottle of vino, crusty bread, cheese and olives, in a field of sunflowers….. a dream yes but possible!
My husband Salvatore never wanted to visit his homeland. He was always dreaming of Asia, Italy held no appeal. That was until he stepped out of the airport straight into the hustle and bustle of Torino Airport…from that moment he was Italiano! Literally changing before my eyes from Sam to Salvatore…. switching straight into Italian as if he'd lived there all his life.
So what does my  Italian Dream look like…
it has many parts. First and closest to my heart are of course our children and the chance for them to live their heritage.
The Italian dream for Our Children – Living la Dolce Vita

I see our daughter Carina hair swinging, eyes sparkling with mischief, completely carefree. Talking non stop in Italian and English, running through the alleys with her posse of friends.
Discovering her fashion sense. Digging in the 'orto' with Papa, bringing in baskets of fresh vegetables ready to cook for dinner. Milking the goats, making cheese, making friends with the local kids and staying in touch with her Aussie friends online. Experiencing her first white Christmas.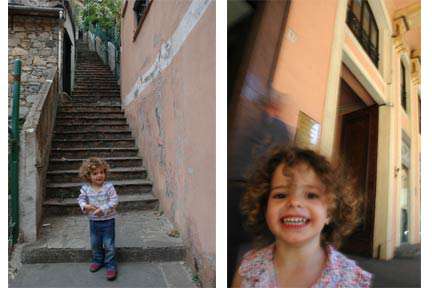 I see our little boy Luca finding his feet, sturdy long legs clambering up the terraces to bring me back treasures he finds in the garden. Relaxed and tanned from the time outdoors. Playing hide and seek in the winding alleys around our house.
Swimming in the ocean like a dolphin, breaking hearts. Bouncing with excitement at his first real castle…looking for dragons. Having his cheeks pinched and his hair ruffled by old ladies in pinafores. Discovering the Italian language, developing his artistic talents with painting, drawing and photography. Talking non stop to people who don't speak English. Dripping his first Italian gelato….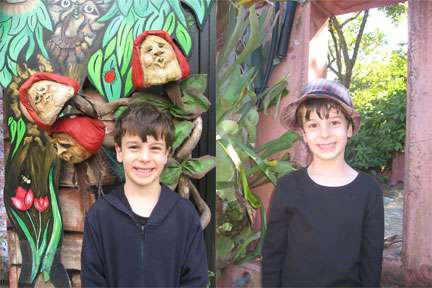 Simple dreams I know.
there are others I will share with you another time, this dream is enough for now.
For now we continue Living la Dolce Vita.

Like this Post?
Subscribe for more straight to your inbox