We knew we wanted to do something we loved and that would be inspiring to others.
We made the move to Italy looking for a better life for ourselves and our children, we have never seen ourselves within somebody's timetable.
Today seems the perfect time to recommit to all we are creating here in Italy, to each other and to our children who are the inspiration for all we hope to achieve.
Imagine how it feels to wake up in the morning to softly falling snow outside your bedroom window, to see your world transform into something magical. Or to spend the day throwing snowballs and making snow angels with your kids.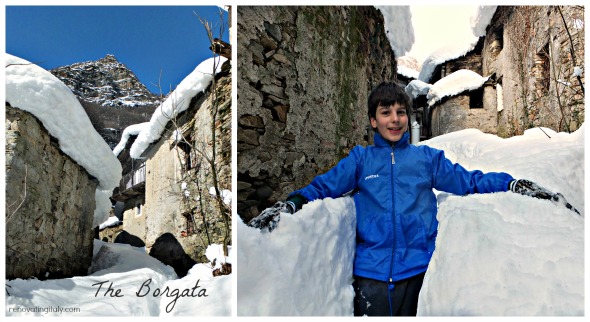 Imagine finally finding your special place in the world and being able to share it, it is possible to move to Italy and these days easier than ever before. I think I read through every page of Living and Working in Italy: A Survival Handbook (Living & Working in Italy) before we left Australia and I still have my copy.
I'm sure you've heard of other people who've made the move to a simpler lifestyle, changing country, having a sea change and just leaving the rat race behind.
So this year I'll be sharing with you some of the inspiration behind our move to Italy and our quest to change our lives for the better.
I know that if we can do this with limited funds, two young children in a medieval Borgata in the mountains then you can do it as well.
One winter I was heading out with Sam and the kids, yes with a hot water bottle, carrot and cup of tea, no wonder the locals look.
Just yesterday we had a Skype call with a couple in Australia looking to make a move to Italy with their young children. It had me see just how far we've come and how much we've learned along the way.
We chatted for some time about chasing a dream, a better life for our kids, school systems, cost of living and what it's really like to pack up and move your entire life to the other side of the globe.
After the call all I could think about was how 'lit up' I was, how passionate and in love with this life we are making here in Italy even with the highs and lows I wouldn't change a single day.
This is what I'd love to share with you along with life here in the Borgata.
In winter we have huge snowfalls and then it starts falling again. Even when over a metre has been forecast we still have to manage getting children to school.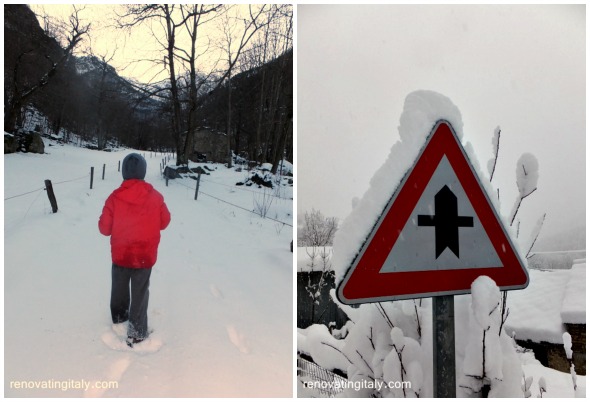 Thanks again for believing in us, and even more importantly , believing in yourself and your dreams.
Like this Post?
Subscribe for more straight to your inbox