We found our 'window guy
(his name is Sergio) through our neighbor two doors down, a relative who with one quick phone call was out to measure up and give us a quote. A little Italian haggling and a price was agreed upon.
In a community this small things like this are always done through word of mouth.
Yesterday we took a trip out to his workshop to choose the color of the stain and found a treasure trove. A true craftsman's place filled with our windows which made my heart almost skip a beat! We already have snow on the mountains and the soft powder looks as if I could reach up and touch it. The nights are getting cold and the temperatures dropping.
I'll be counting down the days till those windows are mine.
For many years I worked in a major decorating store in Australia. We sold paint, wallpaper and wood finishes, it was quite normal for customers to come in and agonize over the wall color or want us to put some stain onto a bit of wood only to end up with so many options they were never able to make a decision. Quarter strength off white, half strength off white…can we get an eighth strength…no you can't!
So it was refreshing to be shown our color options for the windows via strips of off cuts stacked by the door. This one I say optimistically, close enough will do I guess, I'm hoping they will roughly match the few existing new doors and windows put in by the last owner. Things like this which I would have agonized over in Australia are just minute questions here, no color cards or paint swatches just a rough idea and go with that.
These things are really just not that important, just another Italian life lesson I'm learning.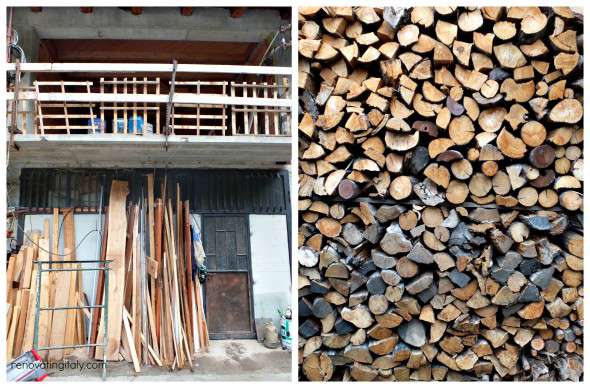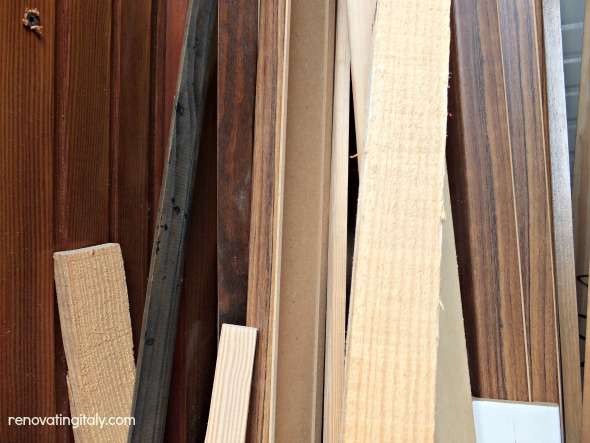 Our current windows are held together with ancient tiny tacks and no putty. They rattle and the chill night air seems to seep right through the thin panes of glass. One window is missing a pane and we have temporarily covered it over. I can't wait to be rid of them. We will also have a new door both up and downstairs, the one leading from the kitchen out onto the upper terrace will be glass to let in the light. The old doors will be put to good use somewhere else in the house.
We are also looking at sealing up the cavity in the upper bedroom ceiling, at the moment it is open as the wardrobe we were given won't fit any other way. It was nice in the summer to be able to see the starlight coming in through the roof but not now.
I wonder how old these windows would be?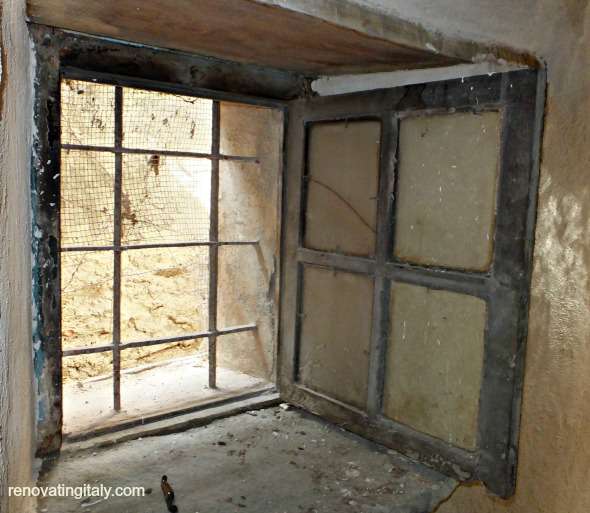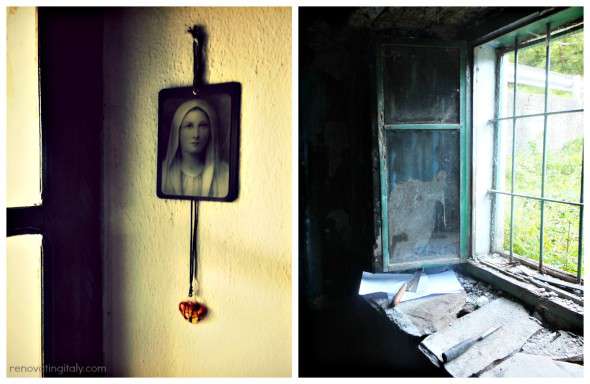 While waiting for Sergio to return his father suggested we take a walk around the borgata, the tiny road did a loop which took us about ten minutes. Chestnut and walnut trees with the ground covered in nuts had us wishing we'd bought some plastic bags. I usually carry one in my pocket now for just such a discovery. Two half breed Burmese cats followed us on our circuit weaving through my legs and purring loudly when I stopped to stroke them.
One doorway caught my eye  with the brightly colored layers of paint peeling over time….