So what is a simple life and why does it have such appeal for so many?
Time to just do nothing at all, home grown food, less time on computers and TV, moments to share with friends and family, even something as easy to achieve as a good book and a comfortable chair.
We have been unknowingly living a simple life for years now, it comes with renovating, our need for 'things' slowly released it's strangle hold. I had no choice really as most of my treasures have been in boxes for numerous moves, this last big move to Italy has us pared down to a handful of stored boxes for each of our lives to date.
We will head off with a few suitcases and the only thing that will follow later are Sam's tools and Luca's dinosaurs.
This is an adventure, we are stepping into the unknown….creating life as it happens!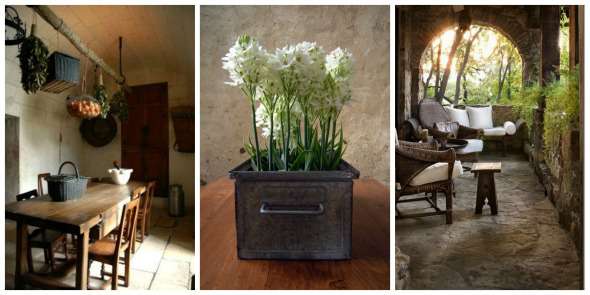 Carla Ann Coulson  – Friends, food, fresh air and love…
Tracy Robinson – Living a simple life, less social media, more books, enjoying and appreciating nature… Simple dinners with family and friends, long walks, less car time, holding hands with my fiance, snuggling with my pooch, laying on the grass watching the clouds go by, needing less material items…
Ryrie Wild – Strolling on a beach; playing with my grandson; looking in second-hand stores; reading in a comfy chair in the shade; cooking a lovely meal for family or friends; wishing wells; taking photos of whatever takes my fancy……..
Lourayne Mahood  – Time with my sons, friends and cats. Beautiful food and wine. Good bread. Clean, crisp linen. Triple milled soap. Fresh flowers. Smiles
For The Love Of Italy  – Wild rosemary. A glass of wine. The setting sun. And soon afterward… fireflies. Soulful conversation with my best friend. A fresh breeze dancing amongst clothes decorating the clothesline. I've seen all these things at once. I don't sound too demanding, do I?
Jos Parkinson – To me it means finding joy in the simple things. Like taking time sit with a cup of tea & look at the beautiful flowers in my garden. Enjoying a walk along the beach with my family & thinking how lucky we are to live in such a beautiful country.
Michelle M Burke – Living a simple life, what does it mean to me? I've been searching for this and I think, maybe I've found it…to live in the country, and breath in the fresh air, the peace, the birds, the kids running around and just being themselves..loving each other and having appreciation for what we have been given x
Bronwyn Marquardt – To be happy with the things I have rather than worried about what I don't have. To be grateful for the joy and beauty in life, nature, my children and our world. To enjoy the simple things in life – good food, a roof over our heads, safe water to drink, each other, pets, friends, family and love. Oh and chocolate. It's nice to have chocolate.
Sarah Ager – For me, a simple life is being content with what you have and taking great pleasure in the small things even if it's just a cup of tea after a long walk or extra froth on your cappuccino! If I have the opportunity in the future, I'd love to grow my own vegetables and herbs. I think growing your own food would make you really appreciate the taste & value because you put so much effort into it. I don't know if others feel the same.
Jeannie Marshall – A simple life would have big stacks of books, comfortable leather chairs and good reading lamps. Doesn't sound so hard to achieve once you write it down.
Karen-Louise Taylor – The simple life is making the best of what you have & trying to be as self sufficient as possible. A life where possessions are not as important as friendships.
Monica Cesarato –  A simple life is to take each day as a gift and treasure it!
I'd love to hear more about your idea's for living a  'simple life"and if you are achieving them…
Like this Post?
Subscribe for more straight to your inbox