Some twenty five years ago I stood at St. Mark's Square, in Venice at the Traghetto Molo and took a photo of the gondoliers.
They were seated together chatting and I felt very brave walking up to take a photo of them all. It would be just one of the millions of photos taken in Venice of these men who guide the black, flat-bottomed gondolas up and down the canals.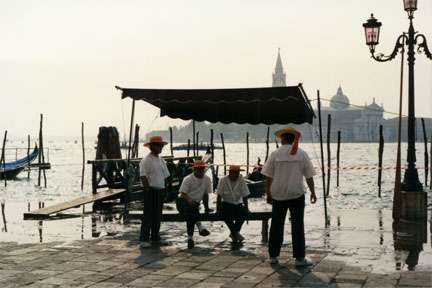 As a young backpacker traveling through Europe there was no way I could afford to ride through Venice in one of the magical gondolas, and really who wants to ride in a gondola on their own.
So I was happy to meet a tiny Italian woman who took me under her wing and walked me to the closest traghetto pier, I got to have a mini gondola ride and took a photo of the gorgeous oarsman.
Who could possibly think that so many years later I would get a message on the blog from Marie who turned out to be married to one of the men in my photo.
Ciao Lisa,
Si! That's my husband Roberto seated on the right next to his colleague Dino. Gigi Ciampi (now retired) is on the left standing and Matteo has his back to the camera. Each of them are at least second generation gondoliers. If they were taken in 1989 then we had just been married for 2 years!
I can't wait to show him the clearer photo this evening when he gets home, and yes Massimo Memo works in St. Mark's with Roberto now. He, too comes from a long line of gondoliers. He has 2 brothers who are also gondoliers and his father, now retired, was also a gondolier. Not sure if his grandfather, like my husband's, was too…I need to ask Roberto.
Thank you for posting the photos. Roberto printed out the one of Massimo and took it to work today to show him.
A presto!
What strikes me is the absolute coincidence of these images finding their way home to Venice so many years later.
Never as a young traveler did I think I'd be married to an Italian, blogging about Italy, and finding such a unique friendship. I know one day soon we'll get to meet, and laugh at just how small a world it really is!
PS ~  "At the back of the Beginning" is a term used often by our little boy….

Like this Post?
Subscribe for more straight to your inbox