[av_hr class='invisible' height='50' shadow='no-shadow' position='center' custom_border='av-border-thin' custom_width='50px' custom_border_color=" custom_margin_top='30px' custom_margin_bottom='30px' icon_select='yes' custom_icon_color=" icon='ue808′ font='entypo-fontello' admin_preview_bg=" av_uid='av-bs0kvz']
[av_heading heading='SIMPLE LIFE' tag='h3′ link=" link_target=" style='blockquote modern-quote modern-centered' size='20' subheading_active=" subheading_size='15' margin=" padding='10' icon_padding='10' color=" custom_font=" icon_color=" show_icon=" icon='ue800′ font=" icon_size=" custom_class=" id=" admin_preview_bg=" av-desktop-hide=" av-medium-hide=" av-small-hide=" av-mini-hide=" av-medium-font-size-title=" av-small-font-size-title=" av-mini-font-size-title=" av-medium-font-size=" av-small-font-size=" av-mini-font-size=" av-medium-font-size-1=" av-small-font-size-1=" av-mini-font-size-1="][/av_heading]
[av_heading heading='Our first winter in Italy' tag='h3′ link='manually,http://' link_target=" style='blockquote modern-quote modern-centered' size='40' subheading_active=" subheading_size='15' margin=" padding='10' icon_padding='10' color='custom-color-heading' custom_font='#000000′ icon_color=" show_icon=" icon='ue800′ font=" icon_size=" custom_class=" id=" admin_preview_bg=" av-desktop-hide=" av-medium-hide=" av-small-hide=" av-mini-hide=" av-medium-font-size-title=" av-small-font-size-title=" av-mini-font-size-title=" av-medium-font-size=" av-small-font-size=" av-mini-font-size=" av-medium-font-size-1=" av-small-font-size-1=" av-mini-font-size-1="]
SIMON CAREY
[/av_heading]
[av_hr class='invisible' height='50' shadow='no-shadow' position='center' custom_border='av-border-thin' custom_width='50px' custom_border_color=" custom_margin_top='30px' custom_margin_bottom='30px' icon_select='yes' custom_icon_color=" icon='ue808′ font='entypo-fontello' admin_preview_bg=" av_uid='av-kw9pjz']
[av_image src='/content/images/wordpress/2011/01/100_3255.jpg' attachment='1114′ attachment_size='full' copyright=" caption=" styling=" align='center' font_size=" overlay_opacity='0.4′ overlay_color='#000000′ overlay_text_color='#ffffff' animation='no-animation' hover=" appearance=" lazy_loading='disabled' link=" target=" title_attr=" alt_attr=" id=" custom_class=" av_element_hidden_in_editor='0′ av_uid='av-jz9pi4e5′ admin_preview_bg="][/av_image]
[av_hr class='invisible' height='50' shadow='no-shadow' position='center' custom_border='av-border-thin' custom_width='50px' custom_border_color=" custom_margin_top='30px' custom_margin_bottom='30px' icon_select='yes' custom_icon_color=" icon='ue808′ font='entypo-fontello' admin_preview_bg=" av_uid='av-kw9pjz']
[av_textblock size=" av-medium-font-size=" av-small-font-size=" av-mini-font-size=" font_color=" color=" id=" custom_class=" av_uid='av-ksq9p6r6′ admin_preview_bg="]
The early hours of the morning when the house is still and sleeping is my favorite time. No sounds of laughter, no calls to solve problems only Mum can solve. A sharp contrast to the relentless pace of the day to come. Checking the kids are warm and sleeping I creep down the stairs like I did as a child Christmas morning.
If I step on certain planks on the landing my peaceful time will end. The temperature has dropped to 6 degrees inside the house and my breath creates a smoke like haze, winter in Italy is just magical.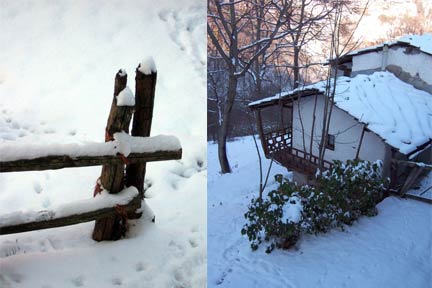 The valley view has disappeared  and the  world is white on white.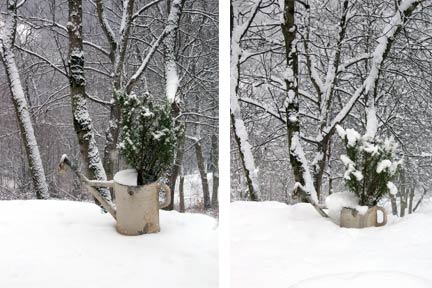 No movement.

Not a breath of wind, the world has stilled for a moment and I have caught it out. Close to heaven, spiritual. Every Christmas card and more. It's as if the clouds decided to come to earth to relax.
The kids are awake… let's start the day.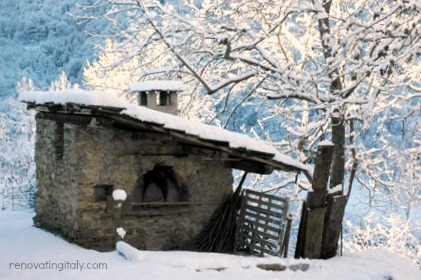 Save
Save
Save
[/av_textblock]
[av_hr class='invisible' height='50' shadow='no-shadow' position='center' custom_border='av-border-thin' custom_width='50px' custom_border_color=" custom_margin_top='30px' custom_margin_bottom='30px' icon_select='yes' custom_icon_color=" icon='ue808′ font='entypo-fontello' admin_preview_bg=" av_uid='av-iyg7fz']
[av_promobox button='yes' label='JOIN NOW!' icon_select='no' icon='ue8bc' font='entypo-fontello' color='custom' custom_bg='#dc5c2c' custom_font='#ffffff' size='large' box_color='custom' box_custom_font='#ffffff' box_custom_bg='#515151′ box_custom_border=" label_display=" link='page,16535′ link_target=" id=" custom_class=" av_uid='av-kr4xye08′ admin_preview_bg='rgb(255, 255, 255) none repeat scroll 0% 0%']
 JOIN THE RENOVATING ITALY CLUB…
[/av_promobox]
[av_image src='http://www.renovatingitaly.com/wp-content/uploads/signature-55.jpg' attachment='11874′ attachment_size='full' align='center' styling=" hover=" link=" target=" caption=" font_size=" appearance=" overlay_opacity='0.4′ overlay_color='#000000′ overlay_text_color='#ffffff' animation='no-animation' admin_preview_bg=" av_uid='av-h27xin'][/av_image]
[av_textblock size=" font_color=" color=" admin_preview_bg=" av_uid='av-fbwx27′]
and the gang x
[/av_textblock]
[av_image src='http://www.renovatingitaly.com/wp-content/uploads/2014/10/add-a-comment-below-message-51d428b350defc8d95d44beb19ebf9a6-e1453284741320.jpg' attachment='7223′ attachment_size='full' align='center' styling=" hover=" link=" target=" caption=" font_size=" appearance=" overlay_opacity='0.4′ overlay_color='#000000′ overlay_text_color='#ffffff' animation='no-animation' admin_preview_bg=" av_uid='av-elbhgv'][/av_image]
[av_hr class='invisible' height='50' shadow='no-shadow' position='center' custom_border='av-border-thin' custom_width='50px' custom_border_color=" custom_margin_top='30px' custom_margin_bottom='30px' icon_select='yes' custom_icon_color=" icon='ue808′ font='entypo-fontello' admin_preview_bg=" av_uid='av-clbja7′]
[av_social_share title='Share this entry' style=" buttons=" share_facebook=" share_twitter=" share_pinterest=" share_gplus=" share_reddit=" share_linkedin=" share_tumblr=" share_vk=" share_mail=" av_uid='av-ap7byn']
[av_hr class='invisible' height='50' shadow='no-shadow' position='center' custom_border='av-border-thin' custom_width='50px' custom_border_color=" custom_margin_top='30px' custom_margin_bottom='30px' icon_select='yes' custom_icon_color=" icon='ue808′ font='entypo-fontello' admin_preview_bg=" av_uid='av-8kq7b3′]
[av_heading heading='YOU MIGHT ALSO LIKE' tag='h3′ link=" link_target=" style='blockquote modern-quote modern-centered' size='30' subheading_active=" subheading_size='15' margin=" padding='10' icon_padding='10' color='custom-color-heading' custom_font='#000000′ icon_color=" show_icon=" icon=" font=" icon_size=" custom_class=" id=" admin_preview_bg=" av-desktop-hide=" av-medium-hide=" av-small-hide=" av-mini-hide=" av-medium-font-size-title=" av-small-font-size-title=" av-mini-font-size-title=" av-medium-font-size=" av-small-font-size=" av-mini-font-size=" av-medium-font-size-1=" av-small-font-size-1=" av-mini-font-size-1="][/av_heading]
[av_hr class='invisible' height='50' shadow='no-shadow' position='center' custom_border='av-border-thin' custom_width='50px' custom_border_color=" custom_margin_top='30px' custom_margin_bottom='30px' icon_select='yes' custom_icon_color=" icon='ue808′ font='entypo-fontello' admin_preview_bg=" av_uid='av-566c5b']
[av_postslider link='category,660′ wc_prod_visible=" prod_order_by=" prod_order=" columns='3′ items='9′ offset='2′ contents='no' preview_mode='auto' image_size='portfolio' autoplay='no' interval='5′ av_uid='av-43t5xb']
[av_comments_list av-desktop-hide=" av-medium-hide=" av-small-hide=" av-mini-hide=" av_uid='av-am1a7′]