A big Welcome to my New York Times readers, it's great to meet you here.
As you may have guessed I have a passion for Italy.  I'm hoping it's something we share… perhaps we also share similar dreams.
A simple home in Italy, a life less hectic, time to spend with my husband and children, living the good life. If you are here because you have a dream I can tell you that they do come true, if our little family can do it so can you!
So what is your dream, why is it so important to you?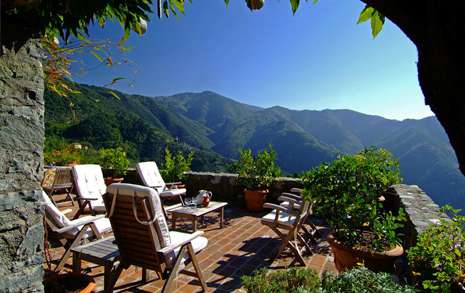 Just over a year ago I was contacted out of the blue by a journalist writing an article about Bloggers who renovate for the New York Times. Massively exciting, we spoke on the phone about dreams and a life lived out of boxes.
Today the article Expatriate Bloggers Chronicle Details of Home Renovations went "live" at The New York Times.
Moving from those early excited moments to the final glory of the finished article in print, is a little like renovating.  Patience, details, and looking beyond the obvious to tell a story.  So firstly I'd like to thank  Roxana Popescu for seeing something special at Renovating Italy, and congratulate the other writers.
For Lisa Chiodo, the transition from Australian housewife to expat cybergoddess started in 2005 when she and her husband left for Italy "with nothing but two large suitcases, two young children and no idea where we would end up," she said. In the foothills of the Italian Alps they spotted a farmhouse that once sheltered people, animals, hay and chestnuts. At first, Ms. Chiodo kept a journal, then she started taking pictures, and finally, as friends and family pestered her for details, she started a blog called Renovating Italy . She used it to document that renovation and, starting in 2010, a second project in Liguria, both producing comfortable residences ready for resale. Read All About It 7 Photos View Slide Show › Rebecca Marshall for the International Herald Tribune Her readers — around 160 a day, she said — seemed to fall into two categories: those who wanted to be her and those who wanted to be her next-door neighbor. "It is as if you have secretly stepped inside my mind and carefully paid attention to the details," one reader commented. Others asked her to help them find Italian renovation projects of their own. Ms. Chiodo said she thinks her blog is appealing because it blends the ordinary and extraordinary. "I didn't speak any Italian and my husband had never traveled, and we just did what we wanted to do," she said, noting that she mixed posts about construction with carpe-diem descriptions of day trips and turning dreams into reality. One school of thought says readers, especially those who follow design and lifestyle blogs, are looking for a dreamy version of domesticity, life through a lens of "what if." But Darren Rowse, the voice behind ProBlogger, said to be one of the Internet's most successful blogging ventures, does not entirely agree. "I think readers respond particularly well to a blogger showing the reality of what they're talking about rather than just talking about their life and topic as if everything is always perfect," he wrote in an e-mail interview. "When you share your successes and showcase the success of others, you inspire people. "But when you also show the mistakes, pitfalls and give readers a peek at the everyday parts of your life (which at times may be mundane and very 'normal'), you also make yourself relatable," he wrote.
If there's anything I've learned since starting this blogging adventure, it's never give up on your dreams, and share from the heart. If you do that, others with "longed for dreams" will somehow find you. The friendships are priceless and I treasure each one.
So if you are visiting today from the New York Times or the International Herald Tribune I'd like to say welcome and I look forward to getting to know you!
You can chat with me here with a comment below. Yes I read every comment and would encourage you to connect with other readers.
Save
Save