Welcome back! This issue features lots of ideas for your reno project, as well as some top tips about inexpensive ways to do a reno. We hope you enjoy it!
If you don't know us we're Lisa & Sam and we love to Renovate! Over the years Sam & I have bought, updated & sold multiple homes in Australia. These days, we are creating a simple life & yep still renovating at the foot of the Alps in Piemonte Italy.
Rather than buying a Palazzo we buy and renovate small economical (Very Cheap, think under 20k) properties in the area and have a number of them on the go at the moment including The Army Barrack, Casa Bianca (seen here and still a work in progress) and another house in the next village to finish which I'm calling The Villar House for now.
We are currently focusing totally on the Army Barrack which has four apartments almost ready to go. We are replacing the roof, cleaning, puttin in new windows and doors, tiling, painting, and doing LOTS of clearing in the chestnut grove surrounding the place which hasn't been done for many years.
you'll be pleased to know there are some clever shortcuts you can take, to make the process, a whole lot easier.
Why an Inexpensive Makeover?
One of the motivations for making the move to Italy was to be debt free and live a simple lifestyle, we are skilled in ''making do with what we have'' and each property has a purpose in mind before we buy it. We are always looking for a good return on investment with these homes (gotta leave something for the kids right!)
Casa Bianca being right next door to our own house will be a great place for family, guests and friends that come to visit to stay and enjoy a little taste of the simple life.
Keep the purpose in mind
Although at a latter date this house will be fully restored for now we just need to create an emergency space for visiting friends. Eventually we plan to share the house with guests and friends that come to visit. The Casa Bianca of my dreams will still happen, just not now.
Totally Clear the Space
The first thing to be done is to totally clear the space. Don't work around things, and be sure to clean as you go. We spent a day moving everything from the house up to our garage.
We'd been using Casa Bianca as storage for all the 'treasures' we found when we first arrived. So it was full of old bottles, baskets, furniture, an original bed frame, old suitcases, and a multitude of bits and bobs.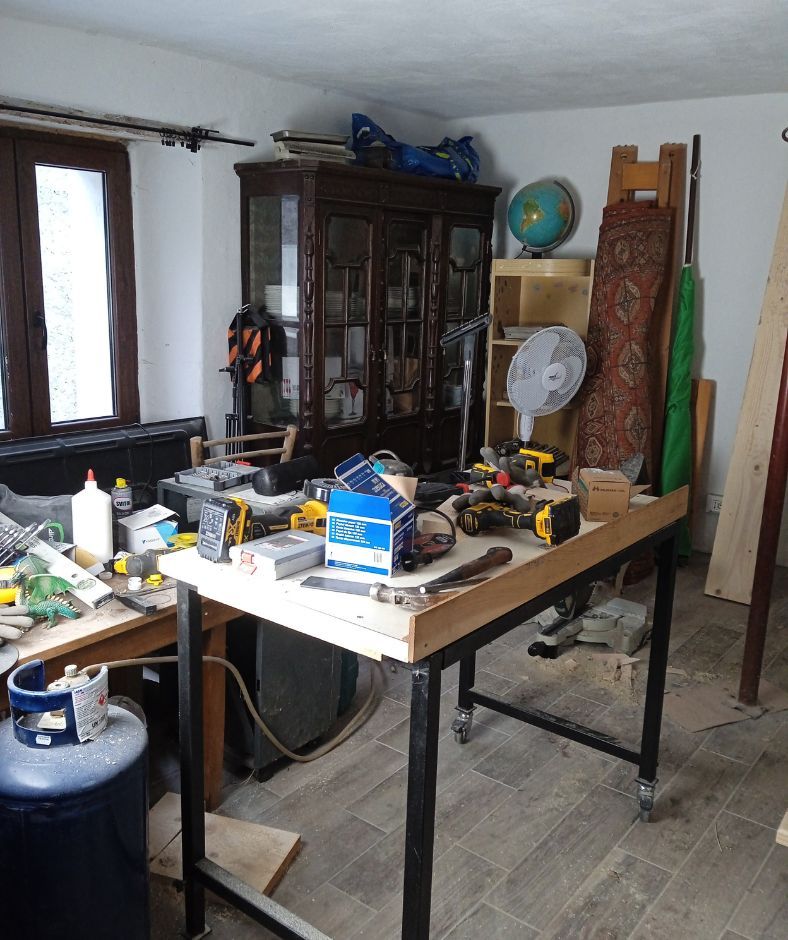 Get Organized
At least one person needs great organizational skills and the know how to put it all into practice. They say men don't multitask well but Sam has it to an art form, working on restoring the borgata, making lunch, picking up and dropping off the kids to school, making salami, preserves, and generally keeping everything running smoothly. He lives from his calendar.
I am the calm one in the partnership, smoothing the way and you guessed it... I never look at my calendar.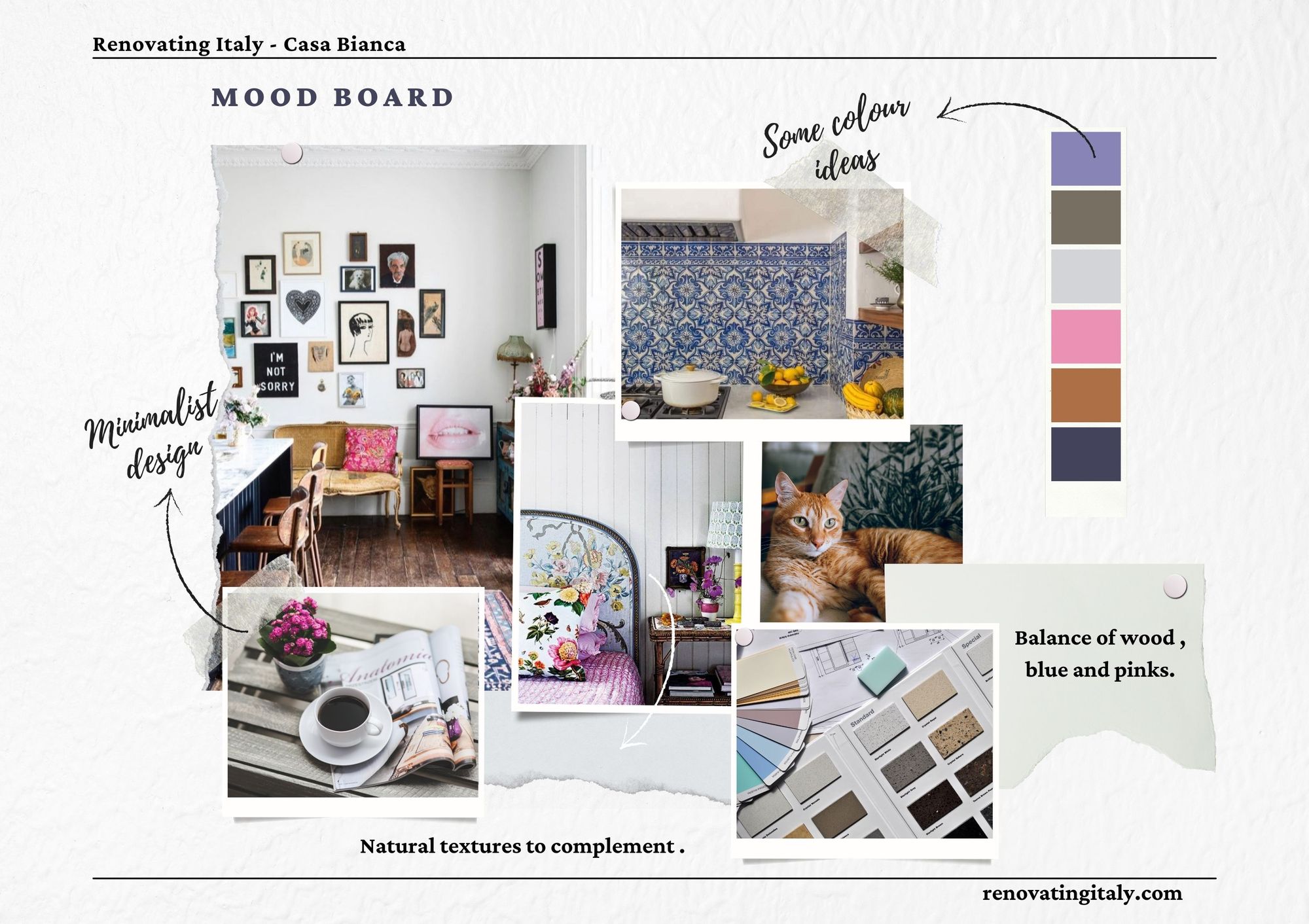 Gather Inspiration
To kickstart your renovation, one of the very best things you can do is start with a "mood board". Think of this as your initial masterplan. It may sound silly but it's actually not!
Looking for ideas, I have hundreds of images on Pinterest. I take after my Mum as she always has a notebook in her handbag to jot down any ideas she sees. I keep my camera with me and take photos of things I like and 'pin' things I see online to my Casa Bianca inspiration board on Pinterest.
If you are working on any project Pinterest is a great way to keep everything together, just be careful not to fall down the rabbit hole and become one of those people who sit online pinning all day.
Keeping costs low
See our shortlist of tips for an inexpensive reno... let us know your best tips in the comments below.
Planning the space will save you time and frustration later, it's fairly easy to do this on a computer or even just sketched out in a notebook. So even though this is a temporary renovation we still need to consider how the space will be used at a later date.
Reuse as many items as possible, we seem to throw nothing away here at the Borgata. In our own home we took the old board up from the floor in the lounge and ended up sanding them back and reusing them as a benchtop and shelving.
Keep things which may be useful, we have a shed full of items to be used at a later date which have come in handy. Our neighbor also has a massive shed with all kinds of things that others may call junk, he has helped us out with many a thingamee bob. If we see a bargain item at the local Ri-Uso we buy it and know it will go into one of our renovations.
Call in some helpers, we have a great community of friends here who give us a hand in return for us helping them out. It's a collaborative community and it helps us keep costs low. Being local also means our neighbors know all the 'secret' ways and restoration techniques to get just the right results.
Shop online for prices and don't be afraid to haggle (Sam has this to an artform). Be aware that locals will get a better price so get a local friend to go with you to the local stores for the first few times. Shop with a Realistic Budget.
Using a simple color pallette will help keep costs down, the room will be recoated white and the texture gives it some depth. This also means that we can use left over paint products on other renovations helping to save on costs.
We will then add warmth with elements like soft furnishings or decorative elements on the walls.
Make do with what you can find
For temporary curtains we're using throw blankets from IKEA, we got a second hand lamp from our local Ri-Uso, vintage chairs are serving as bedside tables, it doesn't have to be perfect right now just functional.
Check with the Group
Of course, there are other smart ways to try & keep your costs under control. My Renovating Italy group is a fantastic community (think people power) to get advice about items you're likely to need for your reno. From your bathroom to your benchtops, your appliances, tiles & all things in between, those tips from others actually renovating here in Italy are priceless. Be sure to check it out: Renovating Italy.
Research, research, research. It solves most problems! It really does pay to research and talk to anyone and everyone you meet, because you never know what advice they could offer, especially the locals in your area.
Casa Bianca – A work in progress (and that's okay)!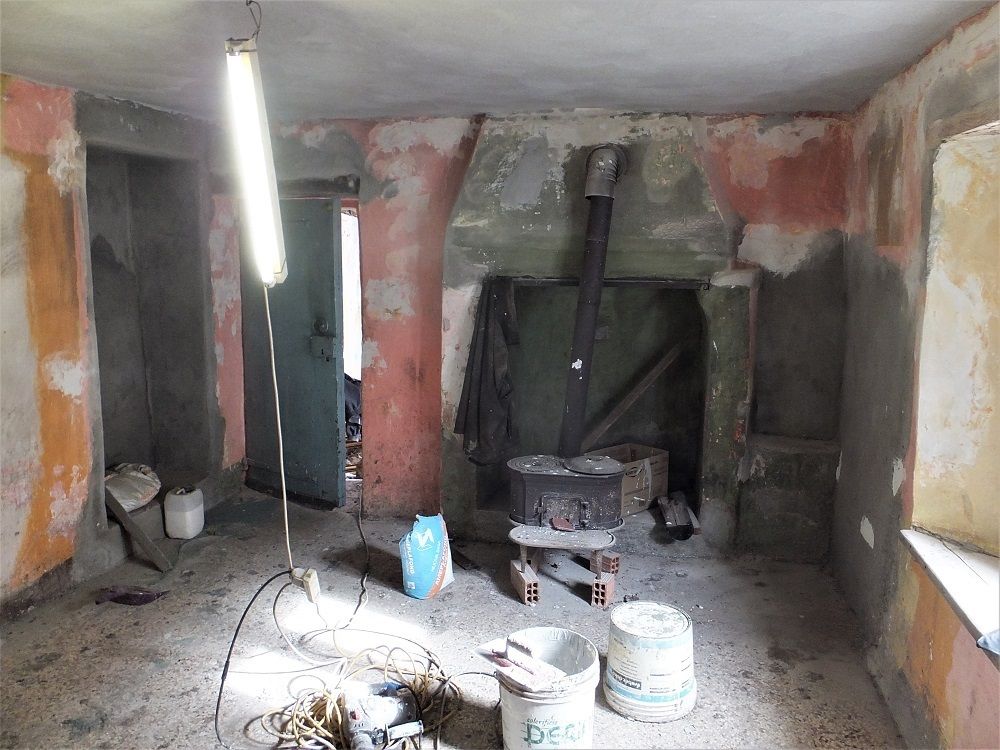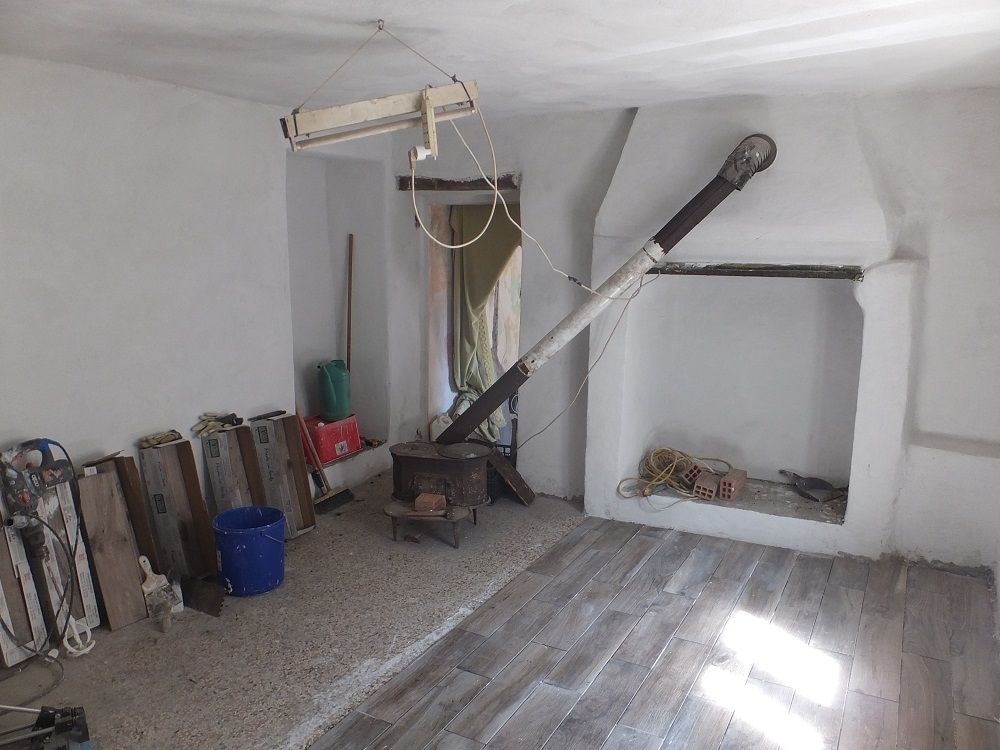 » Taken out the old window and security bars and replaced it with a ready made double glazed window from Tecnomat which helped us to save on costs.
» Totally cleared the room of stored items like an old bed, the original windows, and items from other renovations.
» Cleared the sink area, removing the sink and pipes. Taken out the old pantry cupboard, removing the doors and shelves to make a wardrobe  space.
» Sanded the wooden window ledge back to original timber ready for a clear coating. Scraped the walls and ceiling free of ridges and filled holes.
» Refinished the walls with stabilatura, a mixture that you trowel on. Sam became an expert at this after rendering our Loft Apartment.
» Replacing old flooring with ceramic tiles. These will be harder wearing than a floating floor. Tecnomat had a good range and we found something we liked for 13 euro a square meter.
» Removed & replaced the old staircase to the upper floor which were twisted and rotting. This is just the initial steps going in, it's a skill going through to the upper floor!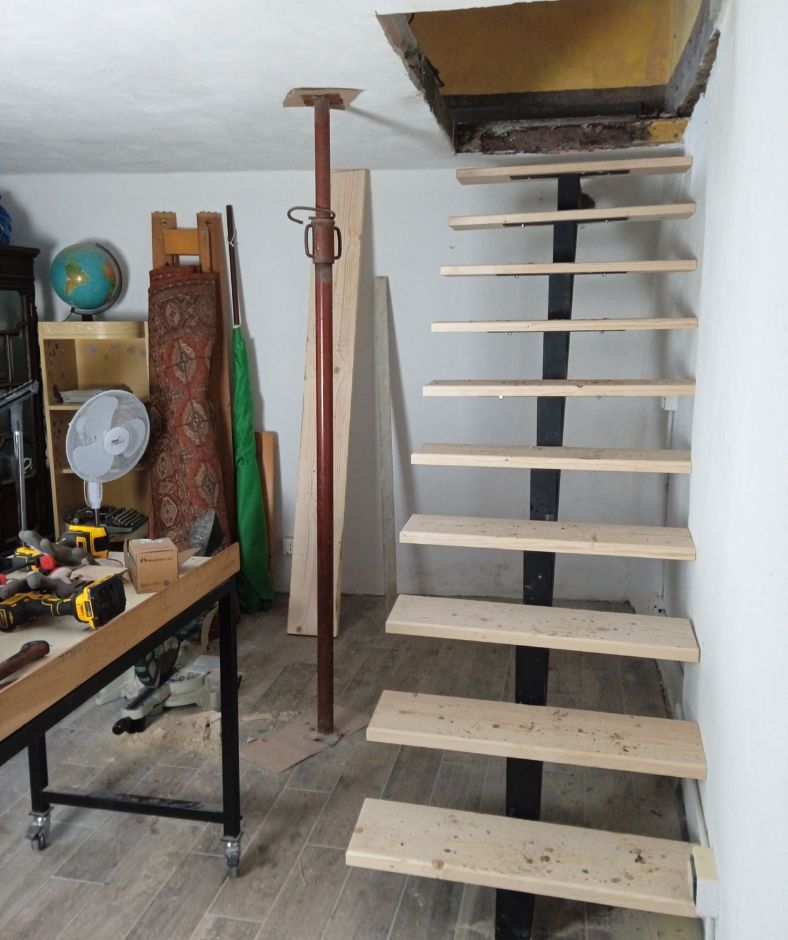 Be sure to subscribe and follow along with the adventures, many things are in the works here at Borgata Malpertus. If you want to follow the progress of this reno, & our simple life in Italy be sure to join my Facebook or Insta page or find us over at Renovating Italy.

One Reno Thing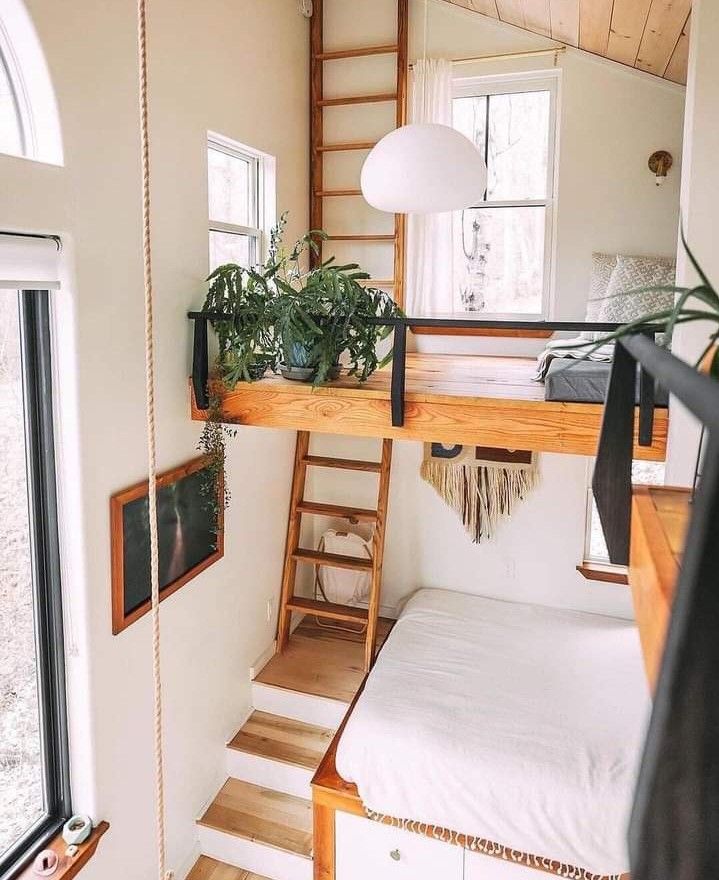 more behind the scenes posts:
How to do an inexpensive makeover (cosmetic renovation) (Casa Bianca)
Italian Renovation - we buy the white house (Casa Bianca)
A Very Rustic Lounge Room (The Main House.... hmm never named this house)